Overview
Car Parking
The local car parks, a mix of short and long stay, are managed by South Hams District Council.  See the map above – LP indicates Long Stay Parking and SP indicates Short Stay Parking.
Totnes town centre has time-restricted parking meters on the main street. There is also a residential parking scheme in place on many of the roads immediately around the town centre.
Disabled Parking
For information about on and off-street parking and if you have a blue badge, please contact South Hams District Council. T: 01803 861234 www.southhams.gov.uk
Coach Parking
The main drop off and pick points for visiting coaches are at the two bus stops on Coronation Road. There is also a drop off at The Lamb, near The Narrows, just off the A381, which allows passengers to walk downhill through the town. The FREE coach parking bays are at Steamer Quay Car Park, along Steamer Quay Road.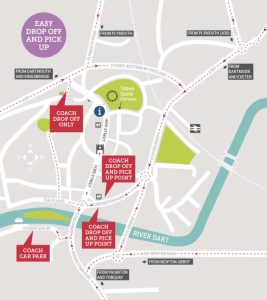 Parking Your Bike
There's a choice of bike stands around the town. Click here for a map.
Motorbike Parking
There are designated motorbike parking bays in four of the District Council car parks in town. There is no charge for parking in these bays. See www.southhams.gov.uk for more details. On-street parking is also free, even when there are meters or a residents parking scheme in operation. Contact Devon County Council www.devon.gov.uk website for more information.
Motorhomes and boat trailers
The designated car park in Totnes for mobile homes and boat trailers is Longmarsh, at the end of Steamer Quay Road. Owners need to pay £15 per night for a maximum of 2 nights, all year round from 9pm – 6am. It is not legal to sleep in a mobile home overnight in any South Hams car park. Caravan parking in the car parks is not allowed at any time of day.
Electric vehicles
If you're visiting in an electric vehicle, click here for a map of the local charging points.