Thrilling images of animals and birds have been caught on camera on the Sharpham Estate, near Totnes, South Devon.
Foxes, a tawny owl and a hedgehog are amongst the creatures caught unawares by hidden cameras on the Estate, around the site of the Sharpham Trust's rewilding project which began earlier this year.
The Trust was awarded £177,400 from The National Lottery Heritage Fund to make more space for wildlife and take action for nature in a three-year project called Sharpham Wild for People. The grant will help in turning the Sharpham Estate organic, re-wilding parts of its historic landscape and helping more people engage with the nature there – from members of the public to students of conservation learning to use camera traps.
"These first pictures of hedgehogs are amazing because as far as we know this is the first record of them being this far into the estate for over 20 years." said Simon Roper, from Ambios Ltd, the nature conservation & education organisation which deployed the cameras via its trainees.
"Although our rewilding project has only just begun it is so encouraging to get this image of an animal likely to benefit from our future work in restoring nature.  Sharing these pictures is a step towards connecting people with nature," he added.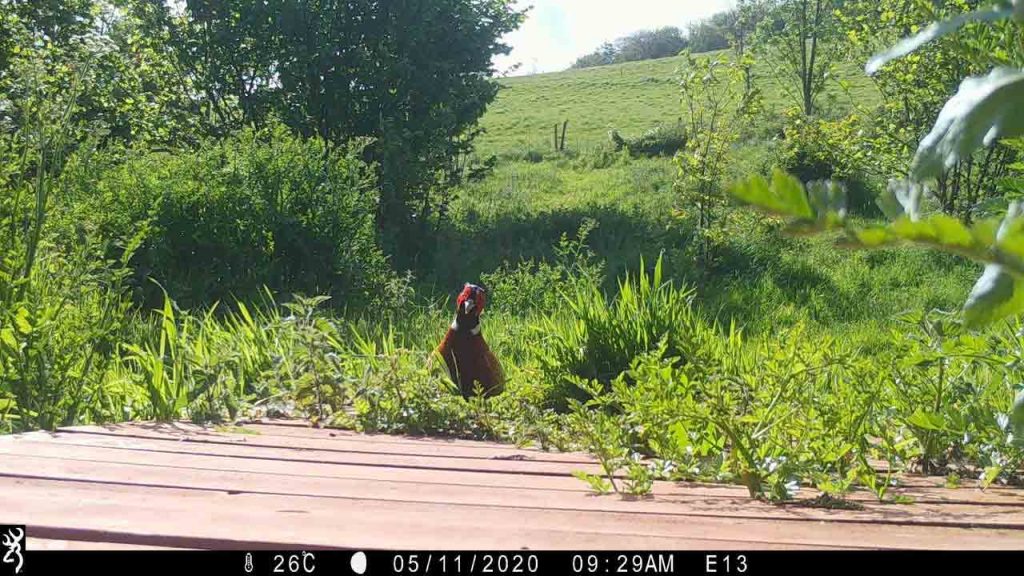 Camera Trapping
The day- and night-time images show a variety of feathered and furred animals, from a Tawny Owl in a tree to a Blackcap by a pool.
There's a fox, believed to be a nursing mum, a song thrush bathed in the sun's rays, a crow close-up and a variety of songbirds beside a pond.
One of the happiest sights is a hedgehog, caught in a night-sight shot, snuffling in undergrowth.
"Hedgehogs have been in decline for many years," said Jack Skuse, Director of Ambios Ltd, the nature conservation training organisation helping Sharpham Trust to deliver The National Lottery Heritage Fund project. "It was exciting to catch one on camera.  This is the mating season, so perhaps this one was looking for a mate."
The images were collected by students on an Ambios course in camera trapping.  The hedgehog pictures were gathered by student whose place is supported by the Heritage Lottery Fund grant.
Organic conversion for Sharpham farmland
An important aspect of the project Sharpham Wild for People is the exploration of organic farming techniques such as less-intensive grazing, in order to support biodiversity.
Ambios Ltd already operates Lower Sharpham Farm, an organic farm on the Sharpham Estate, and has just signed a tenancy to take over a further 50 acres of Sharpham parkland, which will be restored to parkland and wood pasture (a habitat with trees that would have characterised Sharpham parkland at the time of its design, in 1762). An additional 137 acres of land has been leased to farmer David Camp for organic conversion.
"A key mission for Sharpham is to care for wildlife and enable people to connect with our natural world," said Trust Director Julian Carnell.
"Because of this project, almost all the estate land will be managed organically which has proven benefits for wildlife," he said.
The effects of Covid-19
The project was to include school visits, public events, volunteering & training opportunities this summer and autumn, in order to enable a wider range of people to engage with and understand the land's natural heritage.
The Coronavirus pandemic has meant that these have been postponed. However, the Trust hopes to start some of these in September, and is pressing ahead with other project goals such as introducing livestock, fencing and surveying wildlife.