Looking for the perfect spot to enjoy a refreshing dip in the River Dart or off the South Devon coast? Dive on in to discover our top 4 picks of the best places to go wild swimming in and around Totnes.
1) Just above the weir in Totnes
Location: On the Access for All path between Totnes and Dartington
Getting there: It's a short 5-minute walk from Totnes Station or 10-15-minutes walk from the centre of town.
What to expect: Popular with local swimmers, the River Dart pools reasonably deeply at this spot just above the weir. You may be joined on your swim by Mandarin ducks, which live all along this stretch of the river. Also keep your eyes peeled for kingfishers because these are regularly spotted here. You'll find a handy platform on the bank at this wild swimming spot in Totnes to make it easier to get in or out. This also makes it a popular location for launching kayaks and SUPs. Because it's above the weir, you don't need to worry about tidal currents. However, the river can flow quickly at times so check local conditions before you get in.
Treat yourself afterwards: Head back into town for a wide choice of cafes and restaurants including The Bull Inn, Wild Thyme and Waterside Bistro
2) Dartington 'Beach'
Location: Dartington Estate. Head down the concrete path (at the point where the road splits towards Aller Park and the Deer Park.)
Getting there: Dartington is a 2 mile walk or 7 minute drive from Totnes and there's plenty of parking at Dartington Hall.
What to expect: There are lots of spots along the riverbank on the Dartington Estate where you can take a dip. The largest entry point is locally known as Dartington 'Beach' because of the gently shelving bank of shingle/sand. Dynamic Adventures launch their kayak trips from here and it's a favourite spot to play and swim for families. With a beautiful meadow behind you and the South Devon Railway steam train track on the opposite river bank, it's a great spot for a picnic too.
Post-swim coffee: Grab a flat white and cardamom bun at The Green Table at Dartington for a post-swim pick me up.
3) Elberry Cove, Torbay
Location: Near Churston, Torbay
Getting there: Around a 20 minute drive from Totnes + 10 minutes walk from either Churston village or Broadsands Beach car park.
What to expect: With the sun shining you could be forgiven for thinking you're in Greece. Swim in the crystal clear waters from this gently shelving pebble beach.
4) South Milton Sands, Thurlestone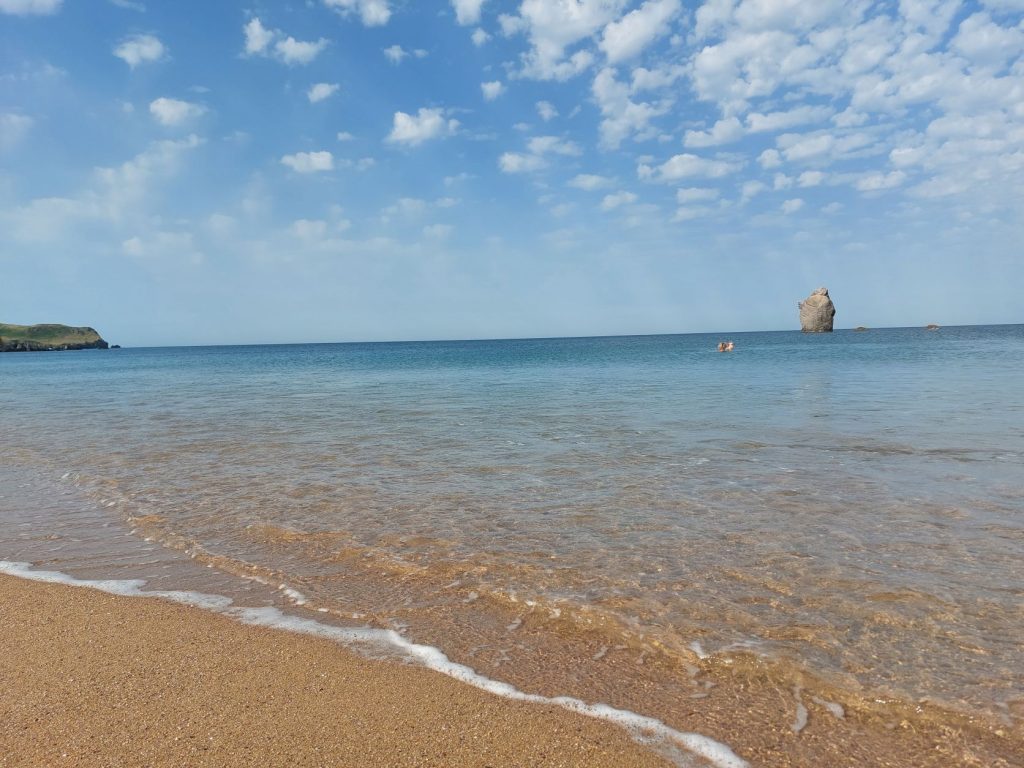 Getting there: Approx 40-minute drive from Totnes with a small National Trust Car Park at the beach. Please be aware the beach is accessed via a narrow lane.
What to expect: Swim out to the iconic arch – the Thurlestone – which gives the neighbouring village its name. Back on the beach, relax and soak up the view towards Burgh Island. This dog-friendly beach is also perfect for the bucket and spade brigade thanks to the sand and fine shingle. Rockpools are exposed at low tide and it's a popular beach for paddle boarders and kayakers too.
Stay on to watch the sunset: Grab a post swim pizza at Rockbox (during August) or get a drink and a bite at the South Milton Sands Café.
Enjoying the water safely
Remember: If you're planning a dip in the River Dart or sea, always follow the guidance of the RNLI. Choose your spot carefully and always check the weather and tides. For more safety advice go to: https://rnli.org/safety/choose-your-activity/open-water-swimming
---
Water quality
Check the water quality at beaches near Totnes using South West Water's WaterFit Live Map
---
Getting to Totnes
Train or bus: Totnes is a 30-minute train journey from Exeter, Plymouth and Torquay. The Gold Bus runs every 30 minutes and takes 50 minutes from The Strand, Torquay and 1 hour from Plymouth.
Driving: Totnes is a 40-minute drive from Plymouth and 50-minutes from Exeter. You'll find a number of public EV charging points in the town.
If you'd like to arrive in style, The Dartmouth Steam and River Company operates boat trips to Totnes departing from Dartmouth and or hop aboard a steam train from Buckfastleigh with the South Devon Railway.
Make more than a day of it
Enjoy a sunrise or sunset swim when you stay a night or more. Check out our top picks of places to stay in Totnes
For more inspiration on what to do and what's on or to book activities and plan your day, check out www.visittotnes.co.uk or follow @visittotnes on Instagram and Facebook