Overview
Discover charming seaside hamlets and quaint villages with cobbled streets, chocolate box cottages and traditional pubs – there are several places near Totnes waiting to be explored.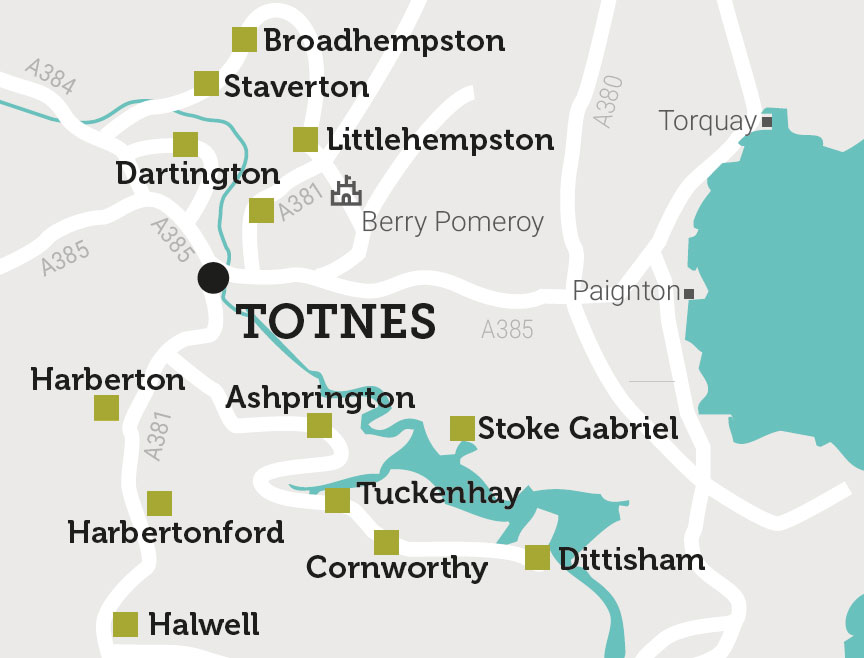 ---
ROUTE 1
Ashprington
A very attractive, unified village with grey stone cottages, 15th-century church and local pub.
Tuckenhay
Once an important industrial village, now a delightful waterside retreat with two inns.
Cornworthy
Set amidst rolling hills on the way to Dittisham, it's home to the ruins of a delightful Medieval nunnery.
Stoke Gabriel
A popular village on the River Dart. Traditionally known for its salmon fishery and apple orchards. Also known as a 'crabbing' hotspot.
Dittisham
A wonderful picturesque village with steep narrow streets winding high above the River Dart. dittisham.org.uk
---
ROUTE 2
Harberton
Classic Devon village with a mix of newer homes alongside the old church and pub. harbertondevon.co.uk
Harbertonford
Once a mill village, it has a traditional post office and a pleasant riverside area. harbertonford.org
Halwell
Between Dartmouth and Kingsbridge, with an inn by the church and an ancient hill fort.
---
ROUTE 3
Dartington
Just north of Totnes town and best known for its association with nearby Dartington Hall.
Staverton
Riverside walks by the Dart, a renowned Inn and the often filmed picturesque steam railway station.
Broadhempston
Lying deep in the countryside with an interesting church and lively pubs. broadhempston.com
Littlehempston
Situated deep in a valley, with fl owing streams, pretty stone cottages and two local pubs.