From sweeping Dartmoor views to riverside meadows buzzing with wildlife, there's lots to discover when you walk in and around Totnes. Whether you're looking for the best dog walk in Devon or a family-friendly stroll for pushchairs and scooters, here's our top pick of walks in Totnes Devon.
Totnes to Dartington Walk
4 miles / 6km round trip (6 miles if you continue to Dartington Estate)
This accessible for all walk leads from Borough Park in Totnes to the Cider Press Centre at Dartington. Here you can pause to look around the shops and cafes, where you'll find a strong focus on local makers and ingredients before retracing your steps back to Totnes. For a longer walk, carry on from The Cider Press Centre to Dartington Hall. Here you can visit their formal gardens, Deer Park and discover more places to eat.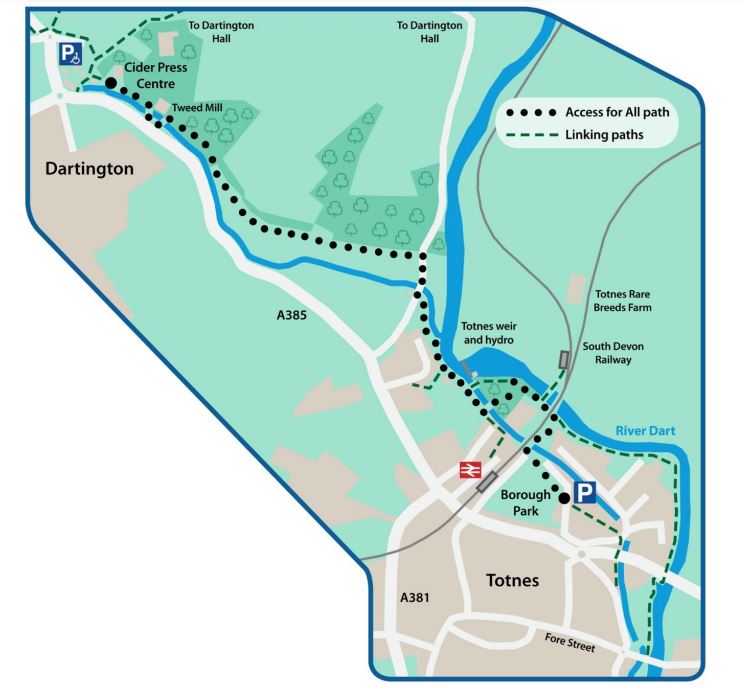 Travelling along the River Dart, the path is mainly flat. There's a choice benches along the way to stop, relax and look out for birds and other wildlife. The path is ideal for pushchairs, scooters and bikes too. The extended walk from the Cider Press to Dartington Hall does involve a hill so may not be suitable for all.
Click here for more information.
Click here to view this walk on OS Explore.
Dogs are permitted on the path to Dartington and in the Estate but not in Dartington Hall gardens.
For an extended loop walk including Dartington, click here.
---
Walk from Totnes to Sharpham and Ashprington
10km / 3 hours
A popular walk from Totnes to Sharpham House and Ashprington (where you'll find a pub for a quick pit stop). The main path is firm and suitable for bikes and walking. There are some hills and this walk is considered moderate. Keep your eyes peeled as you walk as lots of wildlife make a home in the fields and reed beds beside the river. At Sharpham, turn around to enjoy the spectacular view of the river with Totnes in the distance. You'll also find a couple of benches along the way for a mid-walk rest or picnic.
Dogs are welcome on the path to Sharpham, however some parts cross a conservation area. As a result, owners are requested to keep dogs on leads in some places to avoid disturbing wildlife.
There is an option to turn this into a circular walk using the footpath which follows along the edge of the river.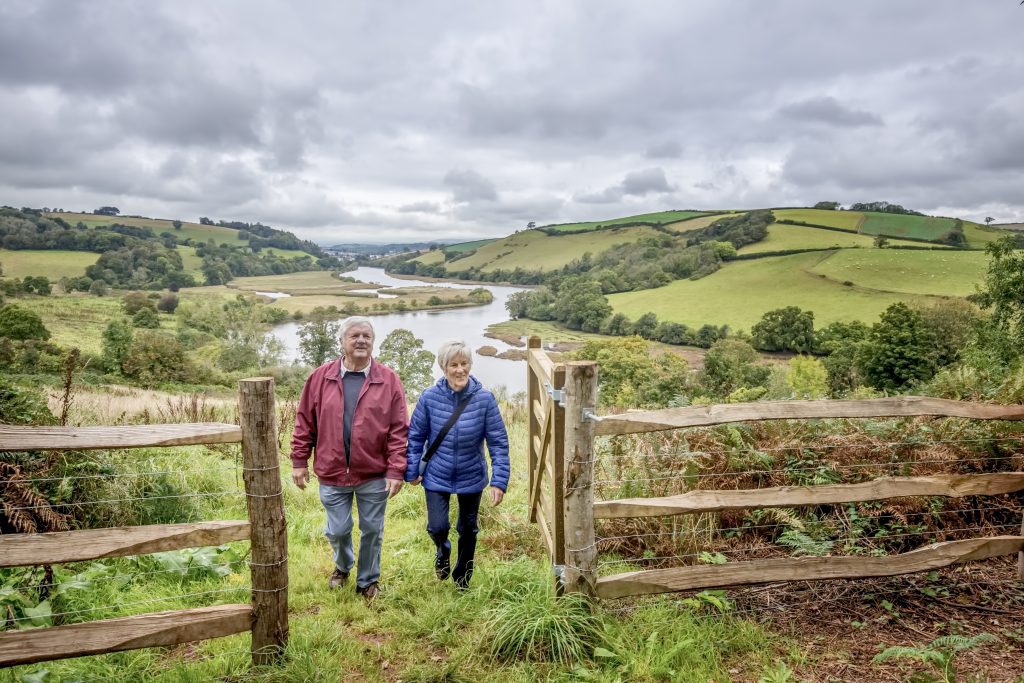 ---
Walks in Totnes: Franklin Totnes Trail
The Franklin Totnes Trail is a 6 ¾ mile circular walk through the countryside which starts and ends in Totnes town centre. There are lots of interesting points and fine views along the way. The path is steep in places and it should take the average walker three to four hours to complete. If time is limited, there are options to shorten the walk by ¾ mile, 2 ¾ miles or 4 miles. This walk is suitable for dogs but be aware some paths are near roads.

To view this walk on OS Explore, please click here.
---
Longmarsh Measured Mile
If you're looking for a gentle walk in Devon, the Longmarsh Measured Mile is right for you. This mile long, easy walking route alongside the River Dart is flat and suitable for people using wheelchairs and buggies as well as scooters and bikes. It starts on the Plains in Totnes just by the roundabout and is ideal if you're looking for a gentle stroll away from the hustle and bustle of town.
The Measured Mile is marked with purple stickers and there are waymarks at quarter mile intervals. From the Plains, turn right, cross the bridge, turn right at Seymour Rd, turn right at Steamer Quay Rd and follow the riverside path to its end at Longmarsh.
There is plenty to see along the way. You may spot Cormorants on the river bank and Seals often swim up river on the incoming tide from Dartmouth. Kingfishers are resident in the marshy area at Longmarsh behind the Measured Mile. The river can be busy with paddle boarders, rowing boats and ferries from Dartmouth and Torbay.
There are benches along the way as well as a cafe, car parking and public toilets. Dogs are welcome, especially in the wide green space at Longmarsh. However, please note parts of this walk are on pavements beside a road in the town.
To view the Measured Mile on OS Explore, please click here.
---
Walks in Totnes Devon: Dart Valley Trail
12 miles/19km
As promoted on TV by Julia Bradbury, the Dart Valley Trail follows the course of the River Dart and links Dartington with Dartmouth, travelling through Totnes at the midway point. With many quaint villages and the magnificent Sharpham Estate along the way, there are plenty of picnic spots or refreshment stops on route. This walk can be also shortened into more manageable sections or cycled.
Dogs are welcome on the path to Sharpham, however some parts cross a conservation area. As a result, owners are requested to keep dogs on leads in some places to avoid disturbing wildlife.
---
Totnes Town Trail
Walks in Totnes Devon are not just about the countryside. Discover local legends and appreciate the fine architecture and pretty streets on a 60-minute self-guided walk through town. Be warned, there's a steep up-hill gradient as you climb up Fore Street and High Street. Luckily, there are also plenty of cafes to stop and rest and enjoy a cake and coffee!
Totnes is dog-friendly. You'll find water bowls located outside several shops when your four-legged pal needs a drink.
Click here for a map and information.
---
Walks in Totnes Devon: John Musgrave Trail
35 miles in its entirety or 18.5 miles from Cockington to Dittisham
For the more adventurous walker, the entire John Musgrave Trail is a 35 mile walk from Maidencombe (outside Torquay) to Brixham. The walk can be split into more manageable sections including from Cockington to Totnes (9 ½ miles) and Totnes to Dittisham (9 miles).
The walk from Cockington takes in Occombe Farm where you can stop at the cafe, the village of Marldon and the romantic ruins at Berry Pomeroy. The Dittisham section follows a similar path to the Dart Valley Trail and takes in many villages including Tuckenhay and Cornworthy.
Click here for more details and map.
---
Totnes to Berry Pomeroy Castle circular walk
12.5km / 3.5 hours round walk (allow more time to explore the castle ruins)
Combine walking with history when you enjoy the circular walk to the splendid English Heritage-managed Berry Pomeroy Castle. Take a look at the map here.
---
Treat yourself to coffee and cake after your Totnes walk
Don't forget to treat yourself to delicious coffee, cake, or smoothie after you've enjoyed our choice of walks in Totnes Devon. Check out our pick of cafes and restaurants in Totnes catering for every taste. For more inspiration on things to see and do, go to www.visittotnes.co.uk