Be an eco-tourist – by Blueriver Cottages
At Blueriver Cottages, we strive to make the right choices for environmental sustainability. In this blog, we offer a few suggestions so that our guests and other visitors to this beautiful area can help us to protect the local environment, wildlife and economy for all to enjoy!
How to go green
CONSERVE ENERGY
At your cottage, reduce energy by switching off lights and closing windows if heating is on. Please visit energysavingtrust.org.uk for more information on what you can do to save energy at home and when on holiday.
SUPPORT THE REAL LOCAL ECONOMY
Locally made crafts and souvenirs are not always cheaper, but purchasing them ensures your contribution to the economy will have a more direct and positive impact.
CLEANER JOURNEYS
Some destinations are just harder to reach, so consider renting a hybrid or hybrid vehicle. Walk, bike, or use public transportation to get around whenever possible.
SAY NO TO PLASTIC
Take a BPA-free water bottle you can refill over and over again at many eateries. Refuse plastic straws.
BEACH CLEANS
There are monthly beach cleans to take part in but you don't have to wait for those – spend 10 minutes before you leave the beach to do your bit.
EAT LOCALLY SOURCED FOOD
Support the region's farmers, get a more authentic taste of the cuisine and cut your carbon footprint even more.
TAKE AN EDUCATIONAL WALK
Totnes is the world's first Transition Town. Take part in one of their walks to find more out about the pioneering projects.
RESPECT NATURE
Help us to look after the beautiful landscape and wildlife of our county by not littering, guarding against fire and using footpaths and cycle-ways responsibly. Ensure you follow the Countryside Code.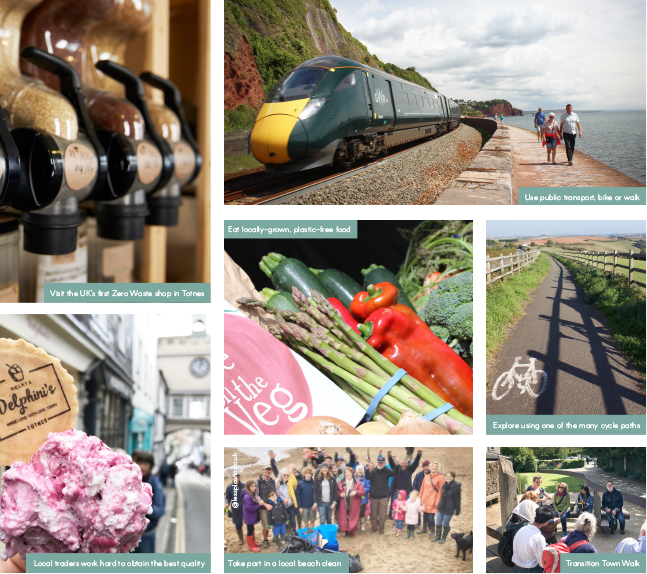 ---
You can take a look at Blueriver Cottages' collection of holiday homes in South Devon and Torbay by clicking here.
---